THE INSPIRATION FOR THE AWARD:
The award is unique, both in spirit and design. Inspired by Christine (Dragonfly co-founder) & Jim Neitzke's son, Matt, the Forty Four Award to recognize supporter's unwavering commitment, passion and enthusiasm for Dragonfly and its mission.
Matt Neitzke was only 10 years old when he was diagnosed with Hodgkin's Lymphoma in 2010. Despite suffering physical and emotional challenges of treatment, and enduring long periods of isolation, pain and fear, Matt never let go of his dream of returning to his favorite activity: baseball. Eventually, Matt returned to play with the same number he has had on his jersey since age 4: the number 44.
DESIGN: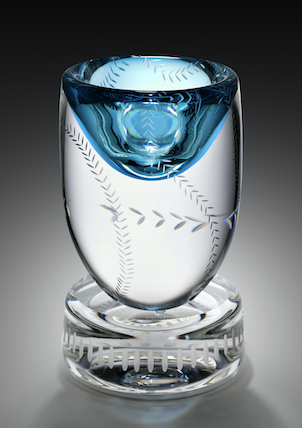 Mark Sudduth of Sudduth Glass, Cleveland Heights, OH, designed and created the award. When Matt Neitzke had to leave baseball, the last ball he threw left a dent in the dirt. The award illustrates that moment, as well as the moment when Matt picked up a ball off the ground to play again. The award symbolizes Matt's determination and commitment, and passion and enthusiasm.
RECIPIENTS:
2019 Drs. John Perentesis & Stella Davies
2018 Marty Brennaman
2017 Mark & Melissa Matson