---
CHRISTINE NEITZKE, EXECUTIVE DIRECTOR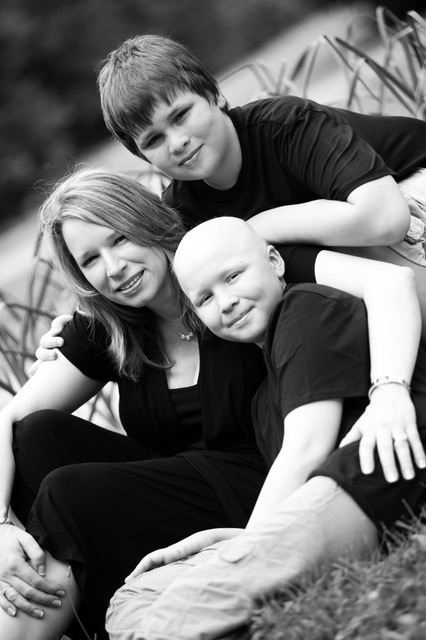 Christine Neitzke is an award-winning entrepreneur, marketer, and executive. An Ohio native and Miami University business graduate, Christine has put her skills in media relations, strategic planning, marketing, design, and events management to work in both the public and private sectors. Christine later tapped into her creative side by opening her own interior design practice, which maintained a thriving clientele of more than 30 private customers.


Like most, Christine and her husband Jim never thought their family would be affected by pediatric cancer. Unfortunately, in 2010, their 10-year-old son Matt was diagnosed with Hodgkin's Lymphoma. Fortunately, Christine, Jim, Matt and Sam, who was 12 at the time, had the support of family, friends, and the community; many other inpatients/families were not as fortunate. Motivated by the lack of support some of Matt's fellow pediatric cancer patients had in their lives, Christine, together with her best friend, created The Dragonfly Foundation. Today, Matt Neitzke is cancer-free and The Dragonfly Foundation has grown to support thousands and thousands.


Christine, a leading influencer in Cincinnati, OH, has been honored with multiple awards, including the Jefferson Award, Lead Magazine's C-Suite Award, Venue Magazine's Women of Influence and Civic Leadership Awards, and the Maureen Donnelly Courage Award.


Outside of her work at The Dragonfly Foundation, Christine enjoys spending time with her husband and their basset and bloodhound. She and her husband also relish every opportunity they have to visit their two boys at Miami University in Oxford, OH (Christine's alma mater).
---
AWARDS RECEIVED BY DRAGONFLY
Under Christine's guidance, The Dragonfly Foundation has been recognized by Lead Magazine as recipient of the Emerging Business Award (2018), a finalist for the 2016 Business Awards in the Non-Profit Category by the Cincinnati USA Regional Chamber, Northern Kentucky Regional Chamber's Emerging 30 (2015) Duke Energy Children's Museum as a Difference Maker Award nominee in 2011, 2012, 2013, and 2014-2015.
---
Ally Brokaw

Director of Events and Sponsorships

Caroline DeGroft

Director of Communications and Marketing

Kathy Doering

Finance Manager (Part-time)

Jules Fischer

Administrative Assistant

Hannah Hopkins

Director of Programs & Patient Relations

Megan Jackson

Vice President of Development

Jessica Merar

Director, Chicago

Silvia Dulsat Planas

Manager of Programs and Patient Relations, Chicago

Lynette Rosati

Vice President of Finance and Business Operations
---
Robert Brown, Chair

Partner, Bricker Graydon

Brad Cates, Vice Chair

CEO, 37th Parallel Advisors

Jack Brendamour

Chief Executive Officer, Junk King Cincinnati & Dayton

Gina Bucalo

Vice President, Marketing, Prolink

Bill Carigan

Regional President, ProMark

Jennifer Chung, MD

Physical Medicine & Rehabilitation, The Christ Hospital Health Network

Dave Cook

Investor & Philanthropist

Corey Cover

Partner & General Manager, American WeatherTECHS, LLC

Michael Fox

Partner, Deloitte & Touche LLP

Michael Hermes

Vice President, Horan

Ryan Kelsey

Commercial Sales Manager, Altafiber

Laurel Markley

Sr. Vice President, Investments, Raymond James

Melissa McCarey, SPHR

Vice President, Global Human Resources, Meridian Bioscience

Jim Neitzke

Business Consultant

Beth Reichert

Inventory Control & Dealer Trade, Kings Toyota

Jason Sayers

Business Development for Pella Windows and Doors

Marc Starks

Bread of Life Ministries

Paula Scholz

Senior Vice President, PNC Private Bank

Mat Whited, Partner, Treasurer

Partner, Clark Schaefer Hackett
---
Jim Browning

CEO, Marsh Brand Partners

John Burns

Founder & CEO, Encore Technologies

Peter Clayton

Senior Director of Operations, Perioperative Services, Johns Hopkins Health System, Baltimore, MD.

Jeff Day

Vice President / General Manager, Lamar

Tony Ricci

Owner/Operator, Tony's Steaks & Seafood

Wayne Speer

Entrepreneur/Consultant at L.W. Speer& Associates LLC & Markley Visiting Professor of Entrepreneurial Studies and Corporate Innovation at Miami University, Oxford, OH

Steve Wanamaker

Founder and CEO at Lead Tribune Media Group

Bob Wysocki

Chief Technology Officer, Microland

George Vincent

Managing Partner and Chairman, Dinsmore

Kim Vincent

Realtor, Sibcy Cline
---
Marty & Amanda Brennaman

Hall of Fame Broadcasting Legend, Voice of the Cincinnati Reds on Radio & Dragonfly Spokesman
---
Jack Brendamour, Co-Chair
Corey Cover, Co-Chair
Dave Cook
Bill Carigan
Greg Elam
Jim Neitzke
Beth Reichert
Jason Sayers
---
External Relations Committee
The Dragonfly Foundation has created a committee of speakers and marketers to provide advocacy support.
Brad Cates, Chair
Michelle Altenau
Bill Carigan
Megan Ossenbeck
Jen Chung, MD
Lindsey Davis
Jennifer Faigle
Tom Fahey
Mark Fields
Jill Henry
Tory Kennedy
Kalonji Martin
Laura Scott
---
Annual Reports, IRS Forms, and Audited Financials
To view our Annual Reports, IRS Forms, and Audited Financials, click here.