---
CHRISTINE NEITZKE, EXECUTIVE DIRECTOR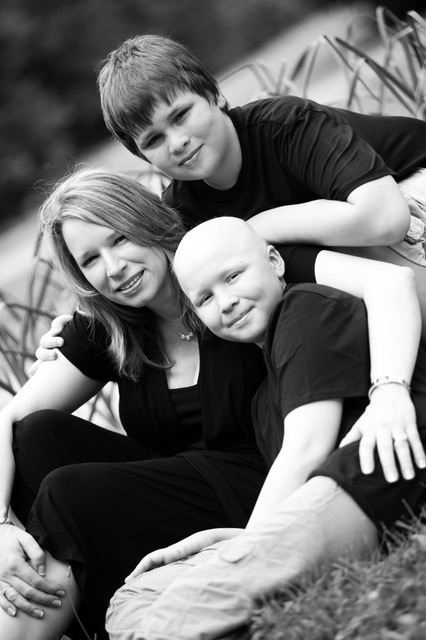 Christine Neitzke is an award-winning entrepreneur, marketer, and executive. An Ohio native and Miami University business graduate, Christine has put her skills in media relations, strategic planning, marketing, design, and events management to work in both the public and private sectors. Christine later tapped into her creative side by opening her own interior design practice, which maintained a thriving clientele of more than 30 private customers.


Like most, Christine and her husband Jim never thought their family would be affected by pediatric cancer. Unfortunately, in 2010, their 10-year-old son Matt was diagnosed with Hodgkin's Lymphoma. Fortunately, Christine, Jim, Matt and Sam, who was 12 at the time, had the support of family, friends, and the community; many other inpatients/families were not as fortunate. Motivated by the lack of support some of Matt's fellow pediatric cancer patients had in their lives, Christine, together with her best friend, created The Dragonfly Foundation. Today, Matt Neitzke is cancer-free and The Dragonfly Foundation has grown to support thousands and thousands.


Christine, a leading influencer in Cincinnati, OH, has been honored with multiple awards, including the Jefferson Award, Lead Magazine's C-Suite Award, Venue Magazine's Women of Influence and Civic Leadership Awards, and the Maureen Donnelly Courage Award.


Outside of her work at The Dragonfly Foundation, Christine enjoys spending time with her husband and their basset and bloodhound. She and her husband also relish every opportunity they have to visit their two boys at Miami University in Oxford, OH (Christine's alma mater).
---
AWARDS RECEIVED BY DRAGONFLY
Under Christine's guidance, The Dragonfly Foundation has been recognized by Lead Magazine as recipient of the Emerging Business Award (2018), a finalist for the 2016 Business Awards in the Non-Profit Category by the Cincinnati USA Regional Chamber, Northern Kentucky Regional Chamber's Emerging 30 (2015) Duke Energy Children's Museum as a Difference Maker Award nominee in 2011, 2012, 2013, and 2014-2015.
---
Greg Vehr

Senior Vice President of Development

Ally Brokaw

Director of Business Operations

Carrie Ellis

Director of Patient/Hospital Programs

Zak Geier

Patient/Family Relations Manager

Mary Tignor

Community Relations Manager

Amy Hafner

Manager of Student Programs (Part-time)

Kathy Doering

Finance Manager (Part-time)

Mike Witham

Property Manager of the New Landing
---
Dave Cook

Investor, Philanthropist and Dragonfly Board Chair

Robert Brown, Esq

Board Secretary & Attorney at Graydon Head

Jim Neitzke

Board Treasurer & President/Chief Financial Officer, TTRI, LLC

Bill Carigan

Regional President, ProMark

Jennifer Chung, MD

Physical Medicine & Rehabilitation, The Christ Hospital Health Network

Peter Clayton

Executive Director, 
Internal Medicine, University of Cincinnati/UC Health

Greg Elam

Co-Owner at Agra Greenhouse Group LLC

Dwayne Emerson

Chief Technology Advisor, Worldwide Technologies & Dragonfly Board Member/Volunteer CTO

Tom Fahey

Central Region Territory Manager, Lamar Advertising

Laurel Markley

Sr. Vice President, Investments, Raymond James
---
Marty & Amanda Brennaman

Hall of Fame Broadcasting Legend, Voice of the Cincinnati Reds on Radio & Dragonfly Spokesman
Jim Browning

CEO, Marsh Brand Partners

John Burns

Founder & CEO, Encore Technologies

Trish Elam

President, Midwest Cactus & Pandy Cotton Candy

iHeart Media

Tony Ricci

Owner/Operator, Tony's Steaks & Seafood

Scott Seger

President, CBTS

Wayne Speer

Entrepreneur/Consultant at L.W. Speer& Associates LLC & Markley Visiting Professor of Entrepreneurial Studies and Corporate Innovation at Miami University, Oxford, OH

Tom Stieritz

Executive Director/COO, The Christ Hospital

Steve Wanamaker

Founder and CEO at Lead Tribune Media Group

Bob Wysocki

Chief Technology Officer, Microland
---
---
Capital Campaign Leadership for Cincinnati
The Dragonfly Foundation in Cincinnati has initiated a capital campaign to support our new patient/family space at 506 Oak Street, Cincinnati, OH.

The initiative is being managed by:

Greg Vehr

Christine Neitzke

Dave Cook, Capital Campaign & Board Chair

Jim Neitzke, Treasurer & Dragonfly Board Member
---
External Relations Committee
The Dragonfly Foundation has created a committee of speakers and marketers to provide advocacy support.

The committee includes:

Committee Chair: Brad Cates, Dragonfly Board Member & CEO, ProSource

Bill Carigan, Dragonfly Board Member & Regional President, ProMark

Jen Chung, MD, Dragonfly Board Member and Doctor, The Christ Hospital

Dwayne Emerson, Technology & Business Strategy Executive, Dragonfly Board Member & CTO, and Consultant

Tom Fahey, Dragonfly Board Member and VP, Territory Manager, Lamar Advertising

Mark Fields, Sales, iHeart

Tory Kennedy, Wordsworth Communications

Kalonji Martin, Senior Solutions Manager, Frontline Education

Megan Ossenbeck, Property Manager, Cushman Wakefield

Regan Schmidt, Esq., Attorney, Taft

Greg Vehr, VP, Vehr Communications & Dragonfly Board President
---
Dwayne Emerson

Technology Strategy Consultant and Dragonfly CTO & B

Bob Wysocki

Chief Technology Officer, Microland

Greg Grewe

Software Developer, EASi

Jude Schramm

Chief Information Officer, Fifth Third

Krishna Babu Mohan Babu

Tata Consulting Services

Matt Berning

Uplift Studio