Friends & Family of Pediatric Cancer Patients/Families
Do you know a child or young adult under 40 years of age enduring pediatric cancer? Thank you for caring about the wellbeing of a patient and their family, and for taking the time to explore if/how Dragonfly might be able to provide support. Please read the Q&A below to learn if the patient/family you know meets our registration requirements and how they might register with Dragonfly. This page also includes ways you can provide support to a patient/family whether or not they are able to register with The Dragonfly Foundation.
---
---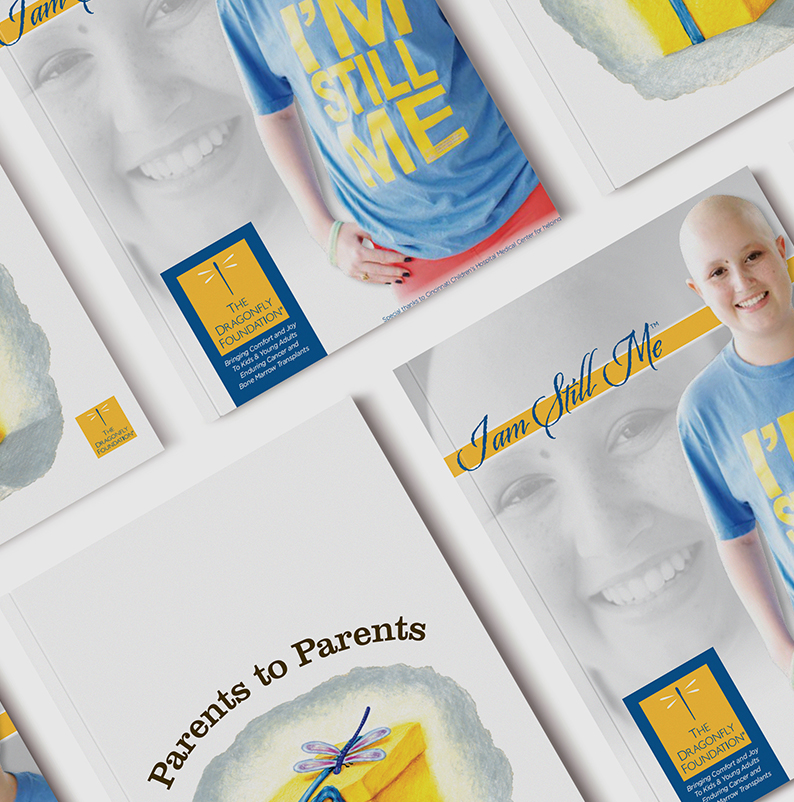 Tips Book

We asked our families what they wish they knew. Read this for great tips. Go Now

I Am Still Me ™ Hair Loss Book

Losing hair can be traumatic, but it doesn't have to be. No matter what happens, our Dragonflies are beautiful! Go Now

Guide To Helping Interact With Patients/Families

Please read our volunteer protocols. The document has valuable information that may help you better understand the challenges faced by pediatric cancer patients and families. Go Now
---
Q: How can friends and family help us support the people they know/love?
A: If there is something we can do to give a patient/family a little joy, we would certainly like to try. Respecting the family's right to privacy, please help us better understand the family's likes/dislikes, challenges and celebratory opportunities. With this information, we can utilize our resources to their best advantage, make our efforts more impactful, and even add an element of surprise.
---
Q: Who does Dragonfly help?
A: In addition to enhancing quality-of-life programs in partner hospitals' oncology and hematology departments at Children's Hospitals in Ohio and Illinois, Dragonfly also offers outpatient programs, services and facilities to registered dragonflies. Our patients range in age from birth to age 40. A "dragonfly family" includes the patient and their siblings/offspring, parent(s)/spouse/primary caregiver(s).
---
Q: How do patients/families register with Dragonfly?
A: Social workers at partner hospitals participating in our Care Bag Program provide eligible pediatric cancer and bone marrow transplant patients with a bag of essential items and resources. Patients who are eligible for outpatient support also receive a Dragonfly registration form from their social worker. Patients and those in survivorship may register with Dragonfly until they are five (5) years post treatment.
---
Q: Do you serve patients affected by other illnesses or challenges?
A: Unfortunately, Dragonfly families are often followed by more than one dark cloud. We do what we can, when we can, as often as we can to support individual family members in their time of crisis. However, our mission prevents us from registering patients who do not have cancer or bone marrow transplants.
---
---
Q: What information is collected as part of Dragonfly's registration process?
A: Dragonfly's Registration Form asks for family members' names, ages, interests and activities, as well as the family's contact information. We also ask about the patient's diagnosis and challenges. Additional questions help Dragonfly understand what brings the family comfort and joy. The information we collect helps Dragonfly identify smile-worthy distractions and memory-making opportunities, prioritize and utilize resources effectively, and understand the family as individuals and as a collective.
---
Q: What happens once a registration form is submitted back to The Dragonfly Foundation?
A: Once we receive the family's registration form from the hospital, a Dragonfly representative will make a personal phone call to the family to introduce the organization, review information received, to explain our event notification system and private event portal, and to offer access to our private online community. Dragonfly will then send the family a welcome package of gifts. From there, we try to involve the entire family in our activities, programs, and ongoing gift giving, as often as we can.
---
Q: What is the best way to reach someone at The Dragonfly Foundation?
A: We are available by phone, email, or social media post. Our main number is
(513)494-6474
and our email is
[email protected]
. You can also message us on
Facebook
and
Twitter
. A Dragonfly representative will get back to you as quickly as possible.