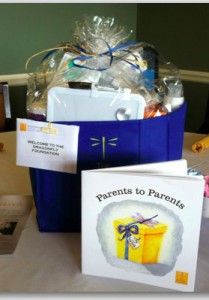 The Dragonfly Foundation, with input from Dragonfly families and donors, created a care package to assist patients/caregivers during the initial days of an extended or emergency hospital stay.  The care package provides items that helps make a hospital stay more comfortable and minimizes the time spent away from the patient. Dragonfly's Care Package Program is currently offered only to qualified patients admitted to Cincinnati Children's Hospital Medical Center's Cancer & Blood Diseased Institute in Cincinnati and Liberty Township, Ohio. In most cases, the ND/ES CARE Package serves as a family's initial contact with The Dragonfly Foundation.
How it works:
Dragonfly provides Cincinnati Children's Hospital approximately 35 care packages a month. Hospital social workers presents patients/caregivers with a bag at diagnosis, before an extended hospital stay, or after being admitted from the emergency room. Social workers also provide a brief overview of The Dragonfly Foundation. All items – which are unscented, new and in their original packaging – have been approved by the Hospital. Families may keep the care package with no obligation to register or support Dragonfly.
Dragonfly's care packages provide information and specific personal care items, stationary supplies and gift cards to make it easier for parents/caregivers to remain physically and emotionally present as they care for the patient in a way that promotes healing. These care packages allow parents/caregivers to manage basic personal needs for themselves and the patient without having to leave the patient's bedside or the hospital. This, in turn, relieves unnecessary stress on the patient and the family.
Rationale:
When a child goes to camp or to college, or a family goes on a cruise, families get a list of things to bring that can help make their stay more comfortable. They have time to contemplate and pack what they want to bring with them for their time away from home. No one plans to get a potentially terminal disease or can foresee emergency situations that require hospitalization.
Following diagnosis, cancer and blood disease patients are often whisked away and immediately admitted for extended hospital stays. Caregivers, stunned by the life-altering news, can be overwhelmed by the emotional, psychological, physical, financial and logistical implications. Emergency hospitalizations, which happen during treatment, are also times of great stress for both the patient and caregiver. In these situations, parents/caregivers often leave home without basic necessities.
While they try, hospitals generally do not have the staff, storage space or financial wherewithal to fully support these quality-of-life needs. This leaves parents/caregivers with an uncomfortable choice: forgo basic needs or activities (such as brushing teeth), or leave the young patient's bedside to gather the necessary items, whether from home or a distant hospital gift shop.