A big THANK YOU to Kings Island and all their staff for a fantastic first day of the Kings Island Kicks Cancer event! If you are in the area please come say hello, buy a soccer ball, and maybe win the Honda Fit!
Kicks Cancer is a new park initiative at Kings Island that is focused on raising awareness and funds for research, treatment and care in the fight against cancers affecting men, women and children. It benefits three local charities: The Dragonfly Foundation, Melanoma Know More, and the Pink Ribbon Girls. During July 25 through August 24, park guests can make an impact in the caring and cure of cancer by purchasing a soccer ball and kicking it into the park's fountain on International Street for a chance to win a brand new 2015 Honda Fit courtesy of Kings Honda.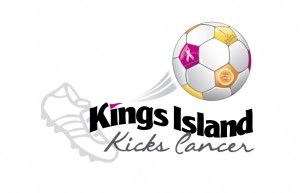 On Friday, 8/1, we will be attempting to break a Guiness Book of World Records for the number of heads shaved at the same time! Please come to the park and watch as WXIX Channel 19 meteorologist, Frank Marzullo, shaves his head in support of caring while we wait for a cure!
Come Monday, 8/4, we are hoping he will wear his "Did It For Dragonfly" t-shirt!