If you can answer "yes" to ANY of the following questions, this opportunity may be perfect for you!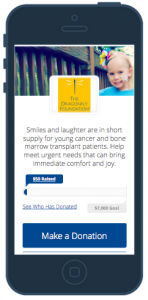 •    Are you willing to share information about Dragonfly, even for informational purposes?
•    Are you comfortable asking people to help us purchase urgently needed patient/hospital gifts?
•    Are you willing to ask friends, family and associates to share your personal web page and text to donate information?
•    Are you willing to ask people to support your athletic endeavors, such as sponsoring your participation at a walk/run event?
•    Do you prefer that people make donations, instead of sending birthday, anniversary or holiday gifts?
You Can Do It In 2 Minutes With ZERO Technical Skills Required!
Text WINGS to 71777 or click on the link below. Scroll to the BECOME A FUNDRAISER BUTTON and register with the program. After you register, you can upload a photo and add a message about why you support Dragonfly. You can also set up a fundraising goal (even if it is as little as $10!).

Watch This Video To Learn About Setting Up A Personal Web Page In 3 Easy Steps!