From A Dragonfly Mom Who Moved With Her Family From South Africa To Los Angeles (For 3 Years) And Then To Cincinnati To Get Treatment For Her Son:
"I want to thank you so much for adding our family to the Dragonfly Foundation. We feel so blessed to be a part of this amazing Organization. We were living in Los Angeles for 3 years and the children's hospital never connected us with any organizations such as yours. We came to Cincinnati and felt embraced and loved from the second we arrived. Giving our family a chance to experience "Normal" fun times has been the biggest blessings ever. We love the events you host. Thank you for giving us our lives back and allowing us to laugh again after many years of tears. God bless you all for the amazing work you do. "
---
From a Dragonfly Mom:
"We got not great news at little warriors appointment today. I was  there alone with her not thinking this was a big appt or anything. I was barely holding it together walking out of the hospital and we ran into another dragonfly momma. She gave me a hug and I lost it. I needed that. That's what you created. It's not just about the events. It's about the people you bring together. All fighting our own battles but still we have this common denominator. Thank you for doing that for our family. Introducing us to other little warriors and their parents. =|="
---
From A Dragonfly Mom:
"I am filling out an application for B to become a Honored Hero for the Leukemia and Lymphoma society. One of the questions it asked her was who is your hero. She asked me if she could put down the Dragonfly Foundation."
---
Cute Story:
Had new Dragonflies visit The Landing today (The Landing is our patient/family space)… Within seconds, the little boy found our "Giving Tree," where kids can pick toys and books* (see footnote) without any parental intervention. With a big grin, he said, "Can I see your trains?" I said, "Wow, this is great, he already knows we have tons of trains!" His mom said, "He didn't." So we walked over to our huge Thomas the Train collection. Needless to say, he went right to work! While he was playing I told the mom about The Landing and how we will not interact with them unless they need/want something, or want us to play with her son (to give them space, time to just breathe and to not make them feel like they need to make conversation or that we are directing their activities while visiting The Landing) — UNLESS she or her son asked or invited the interaction. She immediately smiled in gratitude as her son excitedly said, "THEY WILL PLAY WITH MEEEE!??!!!!!"
Love the reactions our families have to The Landing!!!! Just love it!!
Footnote: Due to infection control and bedbugs, we do not accept book donations unless they come directly from an online retailer or distributor.
---
From a Dragonfly Mom about Dragonfly Co-founders, Christine Neitzke & Ria Davidson
"LOL, N was talking yesterday to his therapist about how he can get a case manager once they hire and additional one. N says "I want Ria/Christine  to be my case manager". Therapist is like "who are Ria and Christine"? N did not understand that you can't just pick a person you know and beg them to come work for an agency and expect them to be your case manager. He had his therapist really confused thinking there was someone name Ria working for Child Focus lol. However, it does show the impact that they have on his life. Out of all the people in the world he could have mentioned, it was Ria and Christine. It is not just about the outings and the fun times, it is N feels truly LOVED by them!"
---
Our 2015 Dragonfly Family Picnic was a HUGE success with even bigger smiles!
A Dragonfly Mom had this to say:
"It was so great to see so many of those we love yesterday. We aren't family in the typical sense. We are family by diagnosis and love. Thank you for creating the dragonfly foundation. Thank you to the volunteers who put in countless hours to make the picnic happen. Thank you to the sponsors who provided amazing characters, food, drinks, music, etc etc. It was perfect! … It's been so rough lately and we needed a day of total love and laughter. So thank you. For all you do. =|="
---
Everyone In The Immediate Family Is A Dragonfly: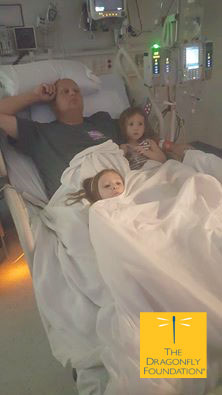 They are all Dragonflies… even the mom who took this picture. Did you know we serve patients up to age 30 who are treated at Cincinnati Children's Hospital Medical Center for cancer or bone marrow transplants? While the patient is the one who was diagnosed and endures treatment, the entire family suffers trauma, isolation, fear, and sadness…. That's why they are ALL Dragonflies.
---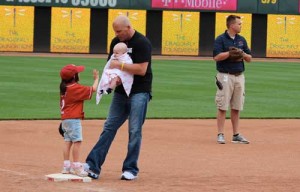 Forty Of Our Dragonflies Played Baseball In The Great American Ball Park… Even This 6 Month Old Dragonfly

This dad was so grateful to have the chance to play baseball with his 6 month old son…. (they and the little girl were among the 40 we invited to play baseball at GABP, thanks to Cincinnati Bell, CBTS and the Reds.)
---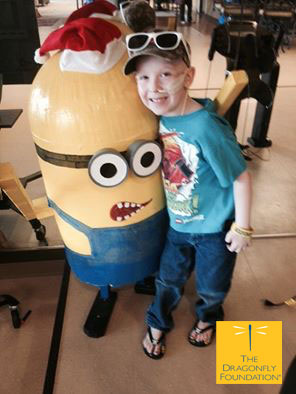 Cute Story:
We include lint roller brushes in Dragonfly's "I Am Still Me" Hair Loss Care Packages we give to Cincinnati Children's Hospital Medical Center's cancer/BMT patients to help them remove hair from their clothing and bedding as it falls out. (It can be scratchy!) We never thought kids would use it to take hair OFF their heads before it falls out!!
Today, one of our Dragonfly moms told us how much they appreciated both our New Diagnosis Care Package and our ISM Hair Loss Care package, especially its lint roller brush and tattoo markers. In fact, her little boy (Pictured) was so excited to use the markers and other items that he wanted to speed UP the hair loss process!! He pulled sticky pieces from the lint brush and placed them all over his head and pulled!! Then he ran the lint roller over his head to get more off!! (His uncle was with him at the time, his mom said.) He went to town with the markers, temp tattoos and the other items!!
Each Care Package is valued at approx $150. Items included in the bags are to help kids and young adults better handle the hair loss process and protect their emotional health. I think the above is a great testimony that we were on target with the items in the bag!! LOVE IT!!
---
From A Dragonfly Mom:
"We've only been members for a couple days but the difference you have made for my son and I is staggering… Yesterday lifted a weight off my shoulders and I'm so blessed to have the support system Dragonfly brings. My son loves The Landing and all the friends he's made there. From the very first day it was like coming home. Thank you isn't enough but it is what I humbly offer."
Thank you Matson Family / Matson Money for donating the space for The Landing to The Dragonfly Foundation. As she said "Thank you isn't enough but it is what (we) humbly offer."
---
From A Dragonfly Mom:

"Dragonfly has been one of the greatest blessings on a journey we never thought we would take."