In June of 2017, Henry Kaufman was like most 9-year-old boys his age. He was enjoying summer break — playing in soccer tournaments, practicing swimming in the morning, competing in swim meets in the evening, and attending basketball camp during the day. To say he was busy, energetic, and lively would be an understatement. But Henry's busy life all changed on June 16, 2017. His mom, Denise, felt a lump on Henry's neck and immediately took him to the doctor's office. Within hours he was admitted to the ER. After several tests, and just three days later, Henry was diagnosed with T-cell Lymphoblastic Lymphoma. For the next 30 days, Henry remained in the hospital to receive his intense, life-saving first round of chemotherapy.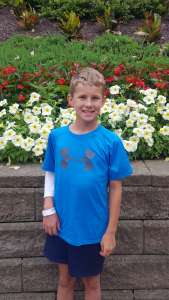 After getting out of the hospital, Henry continued to receive intensive treatments at the Cincinnati Children's outpatient facility. Henry had several more incidences where he was hospitalized due to illness from being immunocompromised. Henry could not attend school or be out in public for fear of getting sick. This was very hard for Henry and his siblings Benjamin 12 and little sister Anna 5.  They tried to make the best of a difficult situation.
Henry never complained and tried to keep a positive attitude throughout his cancer journey. He struggled some with his hair loss and his swollen face but still smiled. Henry is such an outgoing boy, and he told his mom that he looked forward to going to the outpatient clinic so he could talk with the nurses and doctors.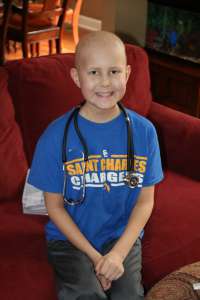 Fortunately, the Dragonfly Foundation provided another way for Henry to get out and enjoy events. Henry barely left the house last year except for going to the clinic and some Dragonfly events.  Dragonfly provided an outlet for him. There was a level of excitement that he could go to these events and feel a little normal again.  The events that were at the US bank arena suite provided a safe haven for Henry and his family. He could be at the event and be separated from the public and germs. Henry and his siblings got to see the Harlem Globe Trotters. They absolutely loved it!
Another favorite for Henry was watching the Cincinnati Reds game at the Pilot House. He would have never gone to this game during his intensive chemotherapy without Dragonfly setting this up.
Henry is thankful that Dragonfly is available for him and other children who are undergoing cancer treatments.