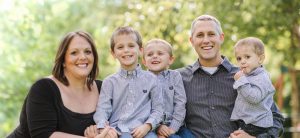 My name is Dawn Baker. This story is about my son Frankie, our family's journey with cancer, and how The Dragonfly Foundation has been a light for us during a very dark time.
Before Frankie was even born, he was diagnosed with some kind of mass in his chest. It wasn't long after he came into this world that doctors were able to determine that Frankie was suffering from neuroblastoma. There was a tumor in his chest and just 10 days after birth, he underwent a left thoracotomy to remove it. Just like that, we were told Frankie was cancer-free. However, life wasn't done putting obstacles in our path. The surgery caused major damage, the most severe effect being a paralyzed left abdominal wall. This meant that when Frankie would cough, his stomach would push out on the left side.
Over the next several weeks and after a lot of changes in Frankie's condition, it was determined that Frankie's cancer was not gone but had spread to his liver. At the time, doctors had decided not to treat him with chemotherapy and believed Frankie's neuroblastoma would mature out as he aged. Months of check-ups and scans later, Frankie, now just 6 months old, was admitted to the intensive care unit where they immediately began chemotherapy. He nearly lost his life that day, but somehow he survived. The mass in Frankie's chest had grown back so large that it deviated his esophagus and trachea and paralyzed his vocal chords. Just one week later Frankie was put on the highest form of life support, known commonly as Extra Corporeal Membrane Oxygenation (ECMO), and we were asked if we wanted to fill out a Do Not Resuscitate order. We were living a parent's worst nightmare.
He wasn't supposed to make it. But he inched his way out. Very slowly Frankie fought his way back. Finally, after four months, we were able to leave the hospital.
I think sometimes it can be difficult for others to understand just how stressful having a child with cancer can be. When Frankie was in the hospital, I rarely left the room. I lived in the hospital for four months with him. I would come home about once every two weeks. That was difficult for Patrick and Simon, Frankie's brothers. But things got better for them when we were introduced to Dragonfly.
Our first experience with the foundation was a Reds game that we got to attend with the whole family. The Dragonfly Foundation had a suite reserved for Dragonfly families.
Frankie couldn't even sit up on his own. We had bag feeds, oxygen tanks, a stroller and everything under the sun. What is great about Dragonfly outings is that no one stares at your kid who has a feeding tube taped to his cheek or gives you weird looks when they notice you're carrying around an oxygen tank. The other Dragonfly families there are going through a similar journey and they are very understanding. The Reds game for us was a real outing. It made us feel like a family again. When Frankie was home from the hospital, we were never sleeping and were always taking care of him. We felt like zombies. We weren't functioning like a family. We were just trying to survive. Ben and I were eating as much sugar and caffeine as we could just to stay awake. I took the brunt of it because Ben had to go to work. When I think about the biggest benefit of Dragonfly for us, it is definitely getting to know the other families and being able to feel like a family again at Dragonfly events.
We've had the opportunity to introduce Frankie to Dragonfly's supporters through some fundraising events and it's really great to be able to share with them exactly how their support helps Frankie and our family. What Dragonfly is doing gives families a chance to make happy memories. No one can take those memories away.
It's really nice to have a candle when you're sitting in the dark. That's how I think about Dragonfly.
Please help The Dragonfly Foundation this holiday season by making a donation.
Be someone's candle when they're sitting in the dark.
With love and gratitude,
Dawn, Ben, Patrick, Simon and Frankie Baker