If you can answer "yes" to ANY of the following questions, this opportunity may be perfect for you!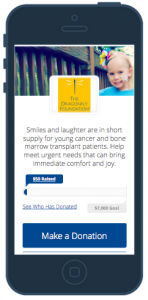 Are you comfortable asking people to help us purchase urgently needed patient/hospital gifts?
Are you willing to ask friends, family and associates to support your interest in bringing comfort and joy to young cancer/BMT patients?
Are you willing to share information about Dragonfly, even for informational purposes?
Are you willing to ask people to support your athletic endeavors, such as sponsoring your participation at a walk/run event?
Do you prefer that people make donations instead sending you birthday, anniversary or holiday gifts?
In LESS THAN 2 MINUTES you can set up your own personal webpage and fundraising site!
Fill out the form below OR text WINGS to 71777.
This will allow you to set your own Team Dragonfly webpage with a personal photo and message. You will also be able to establish a fundraising goal, process and track donations, and easily share information about Dragonfly with  your phone, email and social media contacts!
WHY BECOME PART OF THIS TEAM?
You can make an immediate impact and help improve the patient experience of kids and young adults enduring treatment, side effects or post-traumatic stress. As a TEAM Dragonfly member, you would be instrumental in building a larger community of support around our patients and their families. By joining our team, you would have access to:
Your own personalized fundraising page
The ability to see who donates to support your campaign
Your own text to donate keyword and URL (web address)
Helpful resources, such as pre-written emails, texts, posts, and tweets