­Marley's symptoms, mainly occasional headaches and vomiting began in Fall 2019, when she was five years old. The doctor diagnosed her with migraines, caused by the stress of starting Kindergarten. "Weird, Marley loves school," we thought. We also noticed that one of her pupils was slightly larger than the other. We took her to several eye doctors. Each one told us that she had normal vision in both eyes, and that the difference in pupil size was physiological and of no concern.
Spring 2020 rolled around, and so did COVID-19. It was a stressful time, but we fell into a nice daily routine as a family while being stuck at home for weeks; the mornings started slowly, we had "Happy Hour" walks around the neighborhood when we would wave to or chat with our friends (at a distance), and we had family dinners together, at the table! But, as time moved on we noticed a few new concerning things about Marley: uncharacteristic moodiness, constant sleepiness, and a generally melancholy demeanor. While we became more and more worried, the pediatrician reassured us that such symptoms were the newly dubbed "quarantine effect".
By Summer 2020, Marley's condition had worsened. She became more withdrawn and had difficulty playing. She began frequent pacing, which made it obvious to us that her gait was off. She was exceedingly clumsy, tripping and walking into things all the time. But still, the pediatrician was not concerned, putting blame on the current global situation. Every mommy alarm was going off in my body! "Something is physically wrong, not psychologically."
We were frustrated that we had no answers. We began taking her to different doctors (not an easy feat during a global pandemic) for more opinions.  We were repeatedly told the same thing, until, finally in July 2020, she was referred to a neurologist with Cincinnati Children's. The neurologist, agreeing that something wasn't right, admitted us that day to Cincinnati Children's Hospital for "a weekend" of broad scope testing. I had never stepped foot in a children's hospital in my life until that day.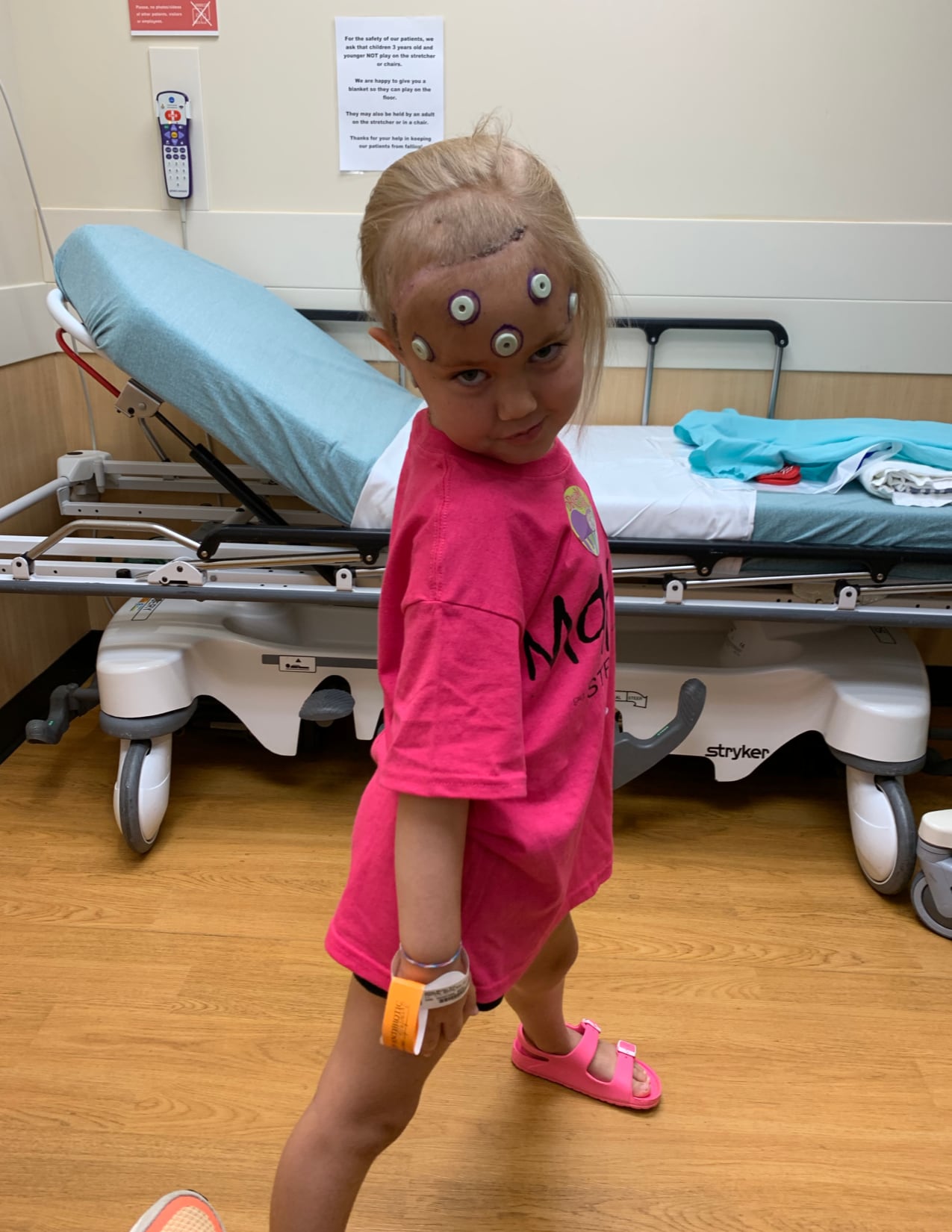 On the second day of testing, Marley was taken for an MRI. What we were told was to be an hour eventually became two… three… four hours.  We paced the hospital knowing, but not wanting to believe, that something big was happening. We were finally taken into a little room, with new, solemn faces, and my stomach dropped. It's amazing looking back how vividly I remember every moment of the next several hours.
They told us Marley had an 8cm tumor occupying most of the middle of her brain, and she needed surgery right away. It was a craniopharyngioma, a rare type of brain tumor that begins near the brain's pituitary gland and optic chiasm. As the tumor grows, it affects the function of the pituitary gland and other brain structures. I remember looking at the scan and thinking, "My little girl has a baseball in her brain."
An emergency craniotomy took place the next morning. After the 15-hour surgery, her surgeon told us they were able to safely remove 80% of the brain tumor and the rest would be addressed with other procedures such as proton radiation, to help lower the chances of the residual tumor re-growing. We never expected that just five weeks later, during a routine scan to prepare for proton radiation, the tumor would have already returned to nearly the same size! We couldn't believe it. "When will Marley catch a break?" '
A second craniotomy was performed to debulk the new growth. Her tumor type often has some of the worst quality-of-life outcomes. We were very lucky in that major surgeries like these often cause secondary injuries, in addition to the destruction already caused by the tumor. She came through both surgeries with minimal collateral damage.
Now knowing how aggressive Marley's tumor is, they expedited the usual proton radiation timeline. She received six weeks of daily treatments. She had the sedated procedure every morning, and as a testament to her social butterfly nature, she would then go to school for most of the day after. It's been nine months since her final radiation treatment, and the tumor remains stable in size.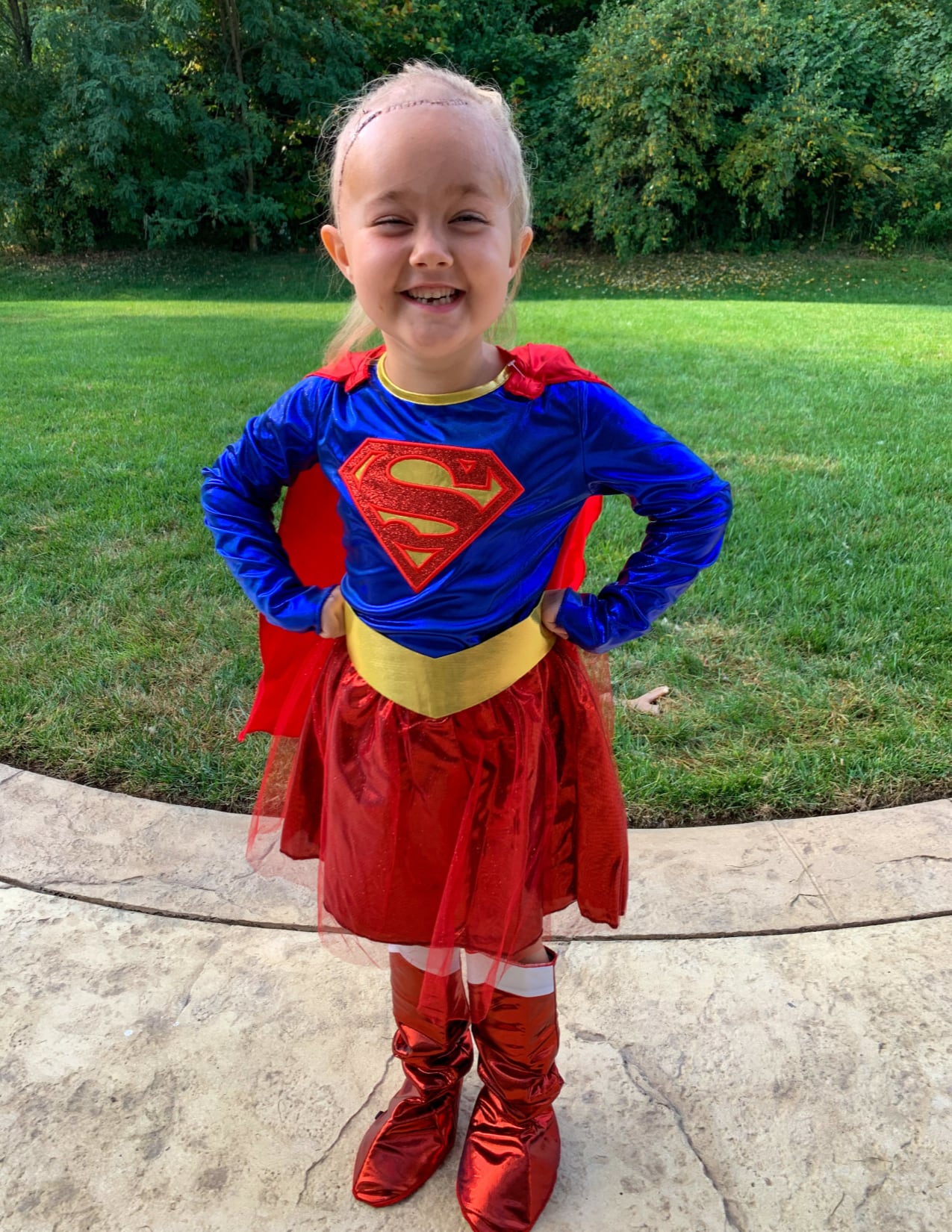 I know other people hear families say that the day their child was diagnosed was the worst day of their lives, but I don't think people generally understand, unless you've experienced it, the terror and absolute loss of control that comes with a diagnosis. Dragonfly has provided us with a group of families who know how we feel, and what we are going through. Other parents who know not only the medical jargon, but also that these kids just want to be kids. And other kids, both patients and siblings, who understand each other's journeys and scars (internal and external) without explanation. There is an immeasurable comfort just being surrounded by others who just… know. The Dragonfly Foundation is a group that we never imagined we would be a part of, but are thankful for everything about it, especially those who have come into our lives because of it.
Something else, that's not mentioned as much, is the mental and physical toll a pediatric cancer diagnosis puts on you. Trying to be your child's advocate, understanding all the medical information, maintaining schedules for treatment/medicines/maintenance, the sleepless nights in the hospital, time away from our other kids… in a word, it's exhausting.  Dragonfly has given our entire family moments of joy amidst the chaos and exhaustion. In a time that could be filled with only painful memories, Dragonfly has supplied us with wonderful moments to look back on as well.
Marley is still the same child she was prior to the diagnosis. She has a magnetic personality, her laugh can light up any room, and if given the chance she will talk to you for hours. Marley is an amazing, hilarious child and her strength fuels those around her. Life for Marley will always be a challenge, but for now, she is just enjoying being a kid. We know the future holds some extreme challenges, but we also know that Dragonfly will be there to provide us a safe haven, and some fun, along the way.