Hoxworth Bleed for A Cause for Dragonfly – July 24th through July 29th
When
Start: Mon, July 24, 2017 at 8:00 am
End: Sat, July 29, 2017 at 8:00 pm
Where
Any Greater Cincinnati Hoxworth Location: Anderson
Blue Ash
University of Cincinnati
Downtown Cincinnati
Ft. Mitchell - KY
Mason
Tri-County
Western Hills

Contact
Hoxworth Appointment Line
513-451-0910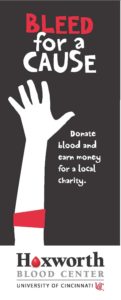 Support The Dragonfly Foundation's Participation in the Hoxworth Bleed for A Cause 2017 Campaign!
Make sure you indicate that you are donating on behalf of The Dragonfly Foundation!
Bleed for a Cause runs from July 24th to July 29th.
You can help us by visiting any neighborhood Hoxworth Center.
To make an appointment call: 513-451-0910.
**The Neighborhood Centers will be using tablets to register upon your arrival, they will have a separate sheet where you must record 'The Dragonfly Foundation' as your charity for us to receive credit for your donation.
However if you are going to a mobile bloodmobile unit you will be completing the paper forms, so please note The Dragonfly Foundation' at the top of the form.
Hoxworth Neighborhood Center Locations:
Anderson
7715 Five Mile Rd Five Mile Rd
Cincinnati, OH 45230
Blue Ash
9708 Kenwood Rd
Cincinnati, OH 45242
University of Cincinnati
3130 Highland Ave
Cincinnati, OH 45219
Downtown Cincinnati
105 E 4th St
Cincinnati, OH 45202
Ft. Mitchell – KY
2220 Grandview Dr
Fort Mitchell, KY 41017
Mason
9554 Mason Montgomery Rd
Mason, OH 45040
Tri-County
11812 Springfield Pike
Cincinnati, OH 45246
Western Hills
2041 Anderson Ferry Rd
Cincinnati, OH 45238